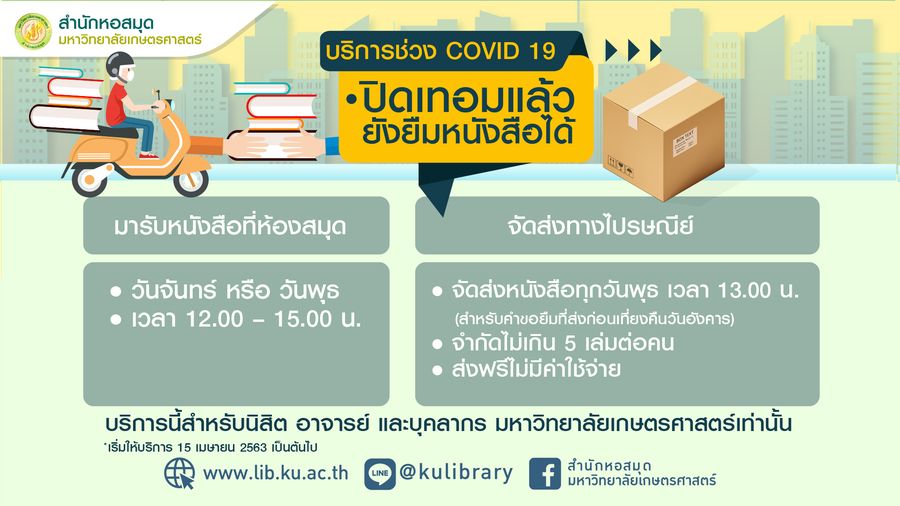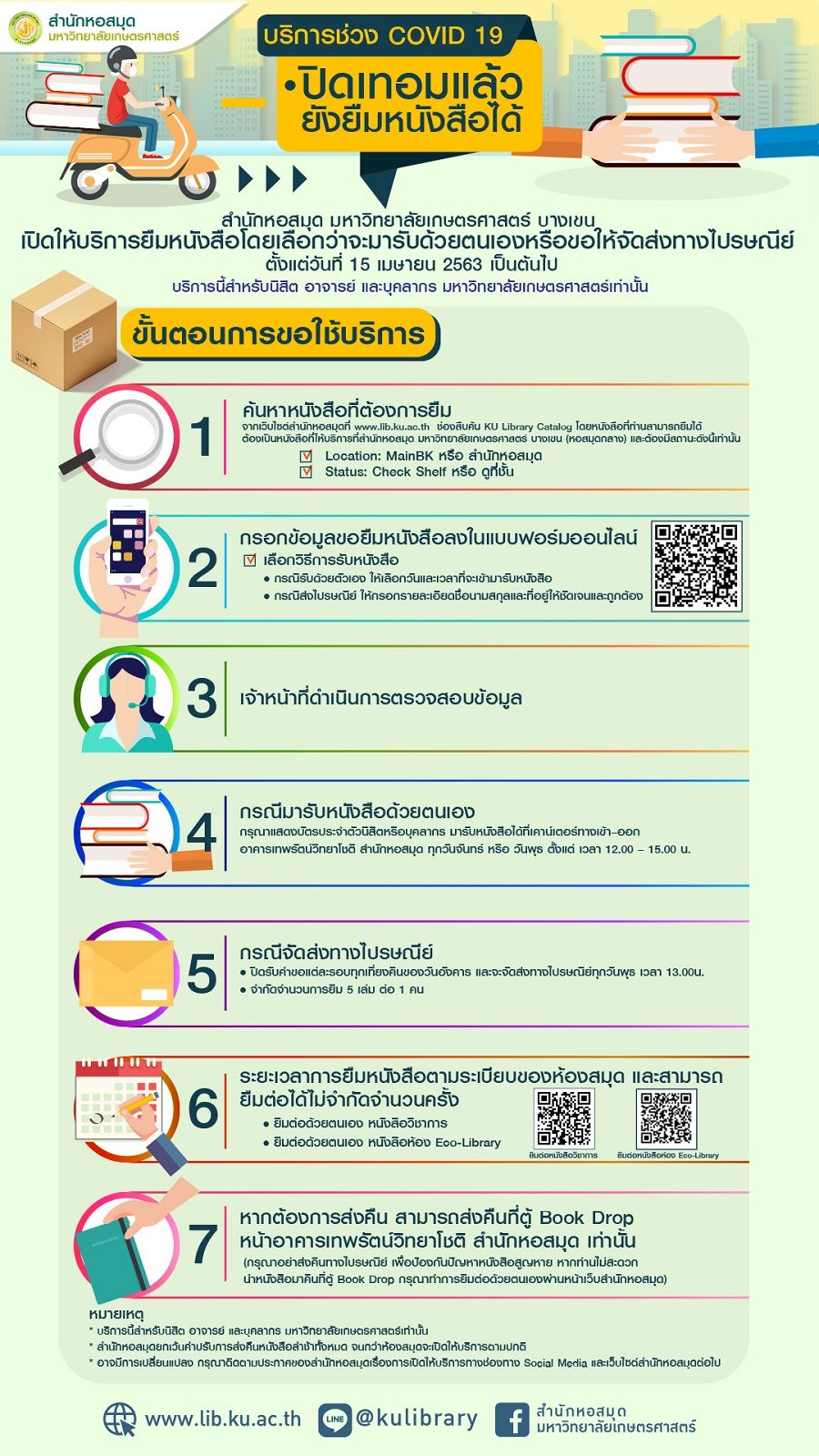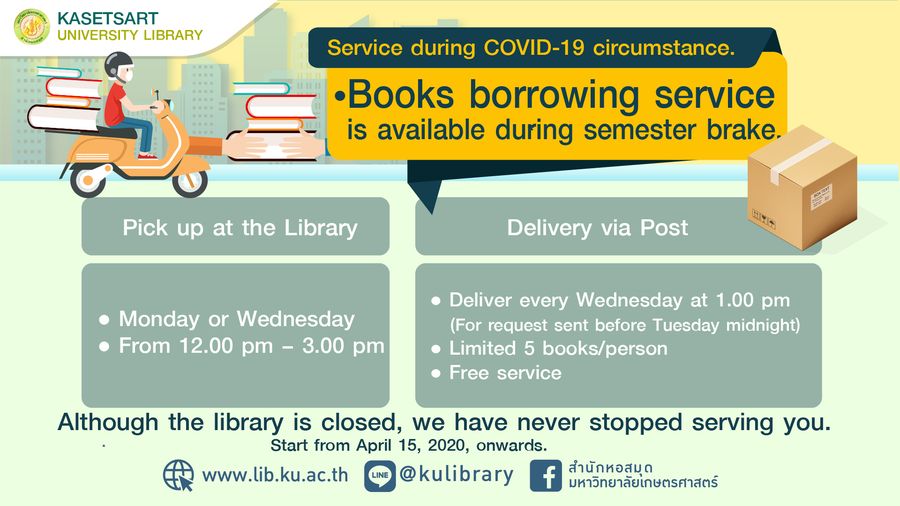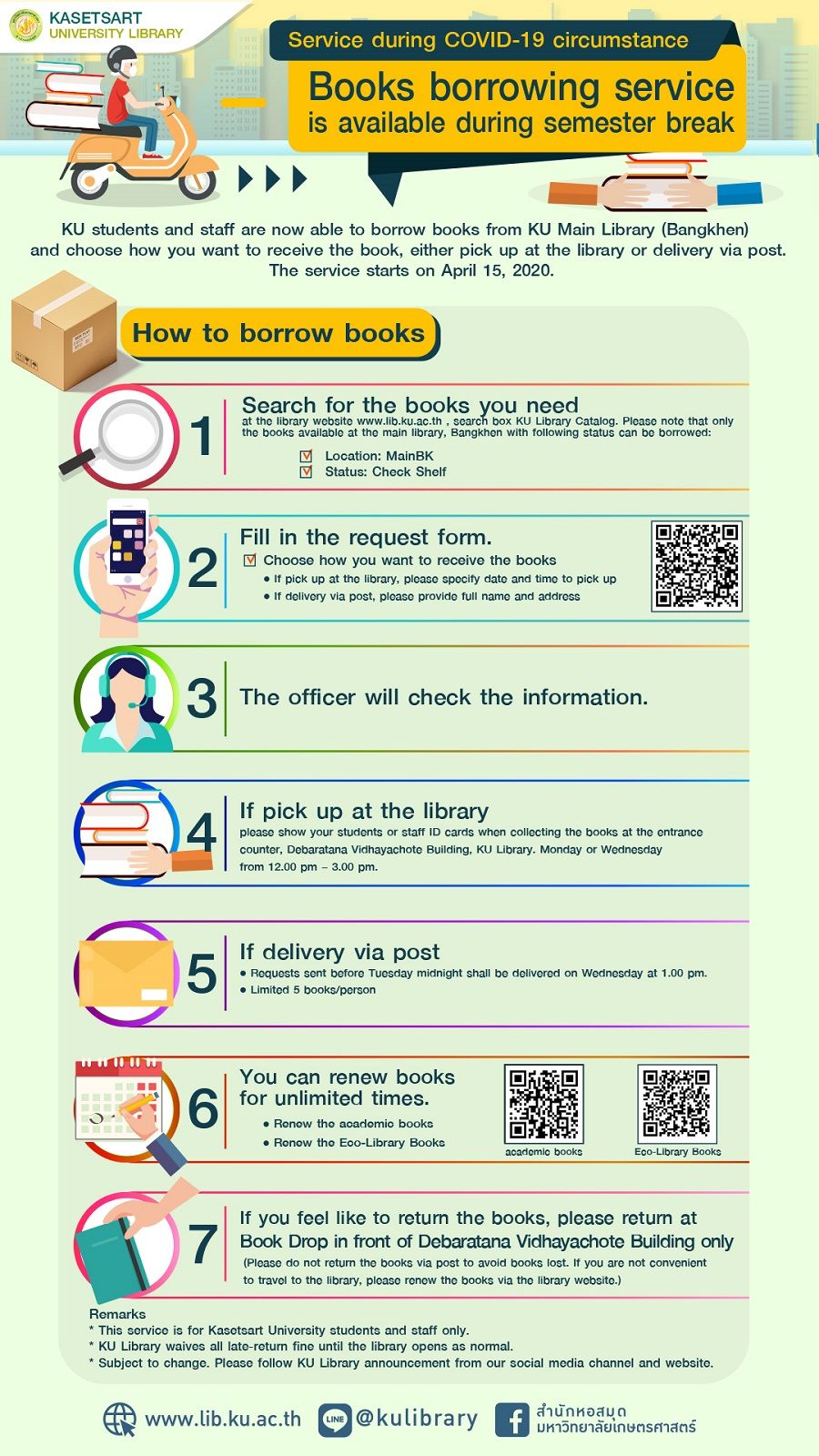 ยืมหนังสือได้ แม้ห้องสมุดปิดบริการ
Book Borrowing Service is Now Available!
สำนักหอสมุด มหาวิทยาลัยเกษตรศาสตร์ บางเขน เปิดให้บริการยืมหนังสือโดยเลือกว่าจะมารับด้วยตนเองหรือขอให้จัดส่งทางไปรษณีย์ ตั้งแต่วันที่ 15 เมษายน 2563 เป็นต้นไป
KU students and staff are now able to borrow books from KU Main Library (Bangkhen). Choose how to receive the book: pick up in person at the library or receive via postal delivery. The service starts on 15 April 2020.
ขั้นตอนการขอใช้บริการ / How to borrow books
กรอกข้อมูลขอยืมหนังสือลงในแบบฟอร์มออนไลน์
Fill in the request form.
https://docs.google.com/forms/d/e/1FAIpQLSfUhdSQy7EoCltTF0Sx33Uqh_o9KoMiJ-DNyaUVsXUpAX0mcQ/viewform
ค้นหาหนังสือที่ต้องการยืมจากเว็บไซต์สำนักหอสมุดที่ lib.ku.ac.th ช่องสืบค้น KU Library Catalog โดยหนังสือที่ท่านสามารถยืมได้ต้องเป็นหนังสือที่ให้บริการที่สำนักหอสมุด มหาวิทยาลัยเกษตรศาสตร์ บางเขน (หอสมุดกลาง) และต้องมีสถานะดังนี้เท่านั้น
Search for the books using the KU Library Catalog, website lib.ku.ac.th
NOTE - only the books available at the main library, Bangkhen Campus, with following status may be borrowed: for the books you need at the library website www.lib.ku.ac.th , search box KU Library Catalog. Please note that only the books available at the main library, Bangkhen with following status can be borrowed:

Location: MainBK หรือ สำนักหอสมุด
Status: Check Shelf หรือ ดูที่ชั้น

เลือกวิธีการรับหนังสือ / Choose how you want to receive the books

กรณีรับด้วยตัวเอง ให้เลือกวันและเวลาที่จะเข้ามารับหนังสือ
If pick up at the library, please specify date and time to pick up
กรณีส่งไปรษณีย์ ให้กรอกรายละเอียดชื่อนามสกุลและที่อยู่ให้ชัดเจนและถูกต้อง
If delivery via post, please provide full name and address
3.เจ้าหน้าที่ดำเนินการตรวจสอบข้อมูล
The library officer will check the information.
4.กรณีมารับหนังสือด้วยตนเอง: กรุณาแสดงบัตรประจำตัวนิสิตหรือบุคลากร มารับหนังสือได้ที่เคาน์เตอร์ทางเข้า–ออก อาคารเทพรัตน์วิทยาโชติ สำนักหอสมุด ทุกวันจันทร์ หรือ วันพุธ ตั้งแต่ เวลา 00 – 15.00 น.
For pick at the library, please show your Student or Staff ID Card at the main entrance library service counter, Debaratana Vidhayachote Building, KU Library.
Monday or Wednesday 12.00 – 3.00 pm.
5.กรณีจัดส่งทางไปรษณีย์ / For delivery via post
***ปิดรับคำขอแต่ละรอบทุกเที่ยงคืนของวันอังคาร และจะจัดส่งทางไปรษณีย์ทุกวันพุธ เวลา 13.00น.***
***Requests received by midnight Tuesday midnight will be sent by post on Wednesday at 1.00 pm.***
จำกัดจำนวนการยืม 5 เล่ม ต่อ 1 คน
Limit 5 books/person
ระยะเวลาการยืมหนังสือตามระเบียบของห้องสมุด และสามารถยืมต่อได้ไม่จำกัดจำนวนครั้ง
Borrowing period: According to the library rules, you may renew books unlimited times.
ยืมต่อด้วยตนเอง หนังสือวิชาการ คลิก / Renew academic books >>> http://intanin.lib.ku.ac.th/patroninfo*thx/
ยืมต่อด้วยตนเอง หนังสือห้อง Eco-Library / Renew the Eco-Library Books >>> http://jindamanee.lib.ku.ac.th/cgi-bin/koha/opac-user.pl
7.หากต้องการส่งคืน สามารถส่งคืนที่ตู้ Book Drop หน้าอาคารเทพรัตน์วิทยาโชติ สำนักหอสมุด เท่านั้น (กรุณาอย่าส่งคืนทางไปรษณีย์ เพื่อป้องกันปัญหาหนังสือสูญหาย หากท่านไม่สะดวกนำหนังสือมาคืนที่ตู้ Book Drop กรุณาทำการยืมต่อด้วยตนเองผ่านหน้าเว็บสำนักหอสมุด)
To return books, use the Book Drop in front of Debaratana Vidhayachote Building only (Please do not return the books via post to avoid books lost. If it is not convenient to travel to the library, please renew the books via the library website.)
หมายเหตุ / Remarks
* บริการนี้สำหรับนิสิต อาจารย์ และบุคลากร มหาวิทยาลัยเกษตรศาสตร์เท่านั้น
* This service is for Kasetsart University students and staff only.
* สำนักหอสมุดยกเว้นค่าปรับการส่งคืนหนังสือล่าช้าทั้งหมด จนกว่าห้องสมุดจะเปิดให้บริการตามปกติ
* KU Library waives late-return fines until the library opens with the usual services and hours.
* อาจมีการเปลี่ยนแปลง กรุณาติดตามประกาศของสำนักหอสมุดเรื่องการเปิดให้บริการทางช่องทาง Social Media และเว็บไซต์สำนักหอสมุดต่อไป
* ALL OF ABOVE is Subject to Change. For updates, please follow the KU Library Announcements on our social media channel and website.
ช่องทางการติดต่อ / Contact Us
Line @kulibrary >>> https://line.me/R/ti/p/%40kulibrary
Facebook สำนักหอสมุด มหาวิทยาลัยเกษตรศาสตร์ >>> www.facebook.com/kulibpr
Ask a Librarian Chat at website >>> www.lib.ku.ac.th